Reflections on PyData Berlin 2017
2017 Diversity Scholars Szilvia Téglás
and Katinka Jeszenszki outline how
the 2017 conference was for them
and what to expect in the future.
We wanted to share some reflections from two first-time PyData Berlin 2017 participants who were also a part of the diversity scholarship program sponsored by the Python Software Foundation. Szilvia Téglás and Katinka Jeszenszki visited from Budapest, and share their impressions of the conference with fresh eyes!
Reflections on PyData Berlin 2017
Katinka and I started to attend R-ladies Budapest meetups last year, when it was formed. We've heard about PyData Berlin Conference and its scholarship program in that group and it seemed like a great opportunity, so we applied and we received funding.
Both of us work as data analysts in Budapest and we have some experience in programming, but actually at the time we hadn't used Python before (I finished an online Python course 3 years ago, but I unfortunately haven't had time to practice since then).
We were very excited; we started to plan days before the conference which tutorials, talks and lectures we wanted to participate in and we also were so happy to see Berlin again, because both of us love this city. We were a bit worried too, because we didn't have experience with Python, but the scholarship's form encouraged us to attend despite being beginners, and it really didn't cause problems for us in the end.
All tutorials and lectures were very inspiring, as well as talks with other participants during the breaks. We saw how easily we can use Python and its packages to analyze new fields which we hadn't used before. We heard about a lot of interesting training programs in Berlin such as Data Science Retreat, so maybe someday we will return to learn more :)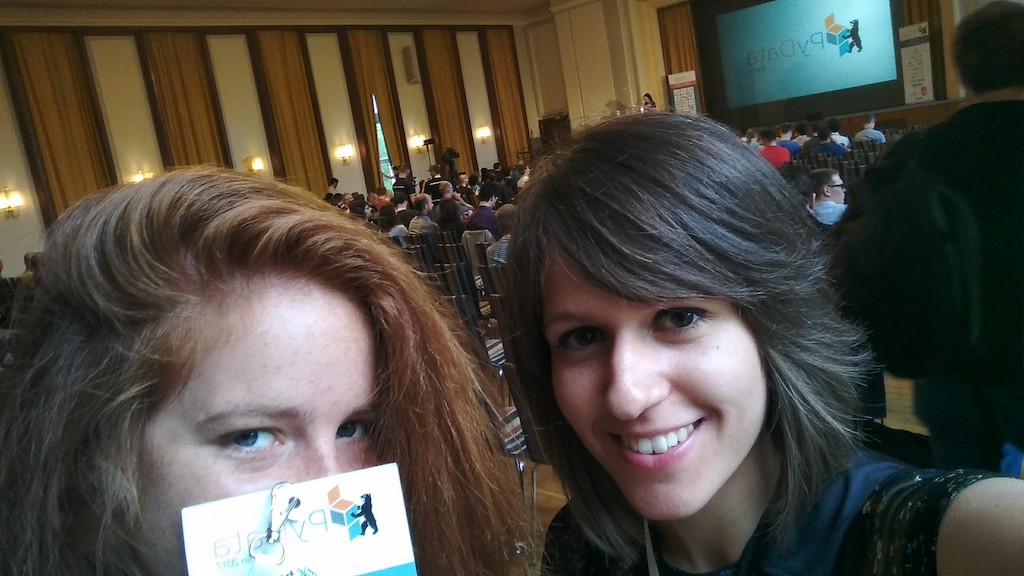 I should mention here, that before the conference I didn't even know Jupyter Notebook and similar things existed, and since the tutorial day I have started using it for my personal projects. I think it's a very-very useful tool.
The whole conference was very well-organized and we appreciated the healthy catering. We want to thank the organizers for givings us the opportunity to participate, and special thanks to Katharine, who helped us a lot with everything!
We can and we do recommend this conference to others, actually we tell a lot about it to our friends and colleagues since we've come back.
– Szilvia Téglás and Katinka Jeszenszki